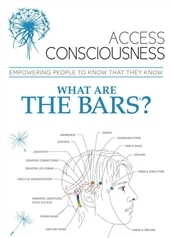 Access Bars ®
The Bars is a body process for dynamic change, which involves touching 32 points on the head that start to clear all the limitations you have about that area of your life.
At worst it will feel like a great massage and in the best-case scenario, your whole life will change!
"It was the first sense of peace I'd had in almost three years. It was the first time remembering everything was ok, everything always had been, and everything always would be"
Session: $75.00/1 hour
'Live in the Now and Create a Life that is Joyous!
And have the Freedom to Create Your Own Clear Conscious Choice'
Make an appointment or send an enquiry – Consultation are available Face-to-Face in Wollongong NSW Centre  Only
***Disclaimer*** Access Bars Healing and traditional medicine are two distinct fields. Access Bars is a healing art rather than a medical procedure and is used in conjunction with, not in instead of, competent medical care and therapy. Always seek medical advice from your doctor if you have a significant medical problem or condition.***